Billy Boop
is Betty Boop's baby brother, he makes his first appearance as her sibling in
Stopping the Show
where he can be seen watching his sister perform on stage from the audience. Billy Boop also appears in the early comic strips. Betty tells her director that she thinks her brother has talent so he puts him up for a screen test. In the comics Billy is a tough little boy who speaks in a deep Brooklyn accent.  He was later replaced in the strip by
Bubby Boop
another of Betty's siblings.
Origins
The character originally made appearances in the early Talkartoons shorts, most notably  Minding the Baby as the baby brother of Bimbo alongside Bimbo's Mother.
Quotes
Billy Boop: What? No Dividend! (Minding the Baby)
Billy Boop: Hey...Mister, ya hat! (Stopping the Show)
Billy Boop: Ooooh... (Stopping the Show)
Billy Boop: You're not my daddy! (Let Me Call You Sweetheart)
Billy Boop: La-la-la-la lollipop! (Let Me Call You Sweetheart)
Billy Boop: Happy Birthday! (Betty Boop's Birthday Party)
Billy Boop: But ah ain't got nuthin to cry about! (Comic Strip)
Billy Boop: Lissen ah'm no sissy! (Comic Strip)
Billy Boop: Say Poicy yo all oughta be ashamed of yoself yassuh! (Comic Strip)
Billy Boop: Cause your brother Van tells everyone he made a lil gentleman out of yo all! (Comic Strip)
Billy Boop: Oh, yeah? But yo all don't hear Betty goin round sayin that about me! (Comic Strip)
Voice Actresses/Actors
Trivia
Aloysius may have been the model for Baby Herman in Who Framed Roger Rabbit as in Minding the Baby, Aloysius can be seen smoking a cigar and reading a newspaper.
In "Betty Boop's Museum" Billy can be seen walking his dog.
Billy can also be seen in the Screen Song "Let Me Call You Sweetheart" Where he takes the leading role, he tells Bimbo that he isn't his daddy and is kicked down the hill, which is showing that both Bimbo and Billy are no longer related to one another.
From 1934 all of Betty's animal friends were removed from the series, including Billy Boop but he can be seen on the curtains of Betty's 1934 opening sequences.
In Boop-Oop-a-Doop Bimbo stands in front of Billy while hawking his peanuts, blocking Billy's view. Billy refuses to buy peanuts the first couple of times he is asked, and when he finally agrees, we find that Bimbo doesn't even have any peanuts, Billy finds himself part of a sexual innuendo and ends up being censored for swearing.
Billy appears in the ending of Betty Boop's Hollywood Mystery, quoting that "You dont have to drive in a limousine" whilst skating.
Billy appears in the artwork for Betty Boop's Double Shift sitting at the same table with Pudgy the dog, but doesn't appear in the game.
Billy also makes a cameo appearance in Popeye's Sock-a-bye-baby, but is mistaken for Olive Oyl's adopted son Swee'pea.
Billy Boop appears in many other earlier Talkartoons, and can be easily identified, wearing a frilly bonnet with one split curl.
Billy makes his last appearance in "Betty Boop's Birthday Party" where he can be seen giving Betty a grand piano for her birthday.
Filmography
Talkartoons/Screen Songs (1930-1932)
​Video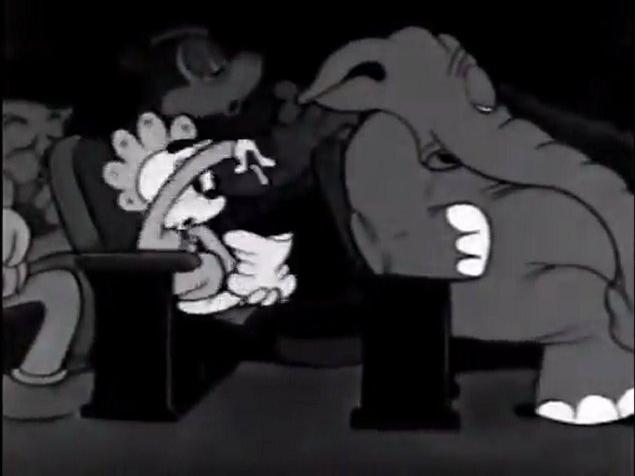 Gallery
See Also
Ad blocker interference detected!
Wikia is a free-to-use site that makes money from advertising. We have a modified experience for viewers using ad blockers

Wikia is not accessible if you've made further modifications. Remove the custom ad blocker rule(s) and the page will load as expected.