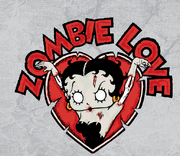 Betty Boop Zombie Love is
Betty Boop
re-vamped as a zombie. It made it's debut at King Features Syndicate Showcase in early 2013. Betty Boop, one of the most iconic animated characters in history was given a all-new treatment that will take the brand into unexplored territory. With a new style guide and art treatments, the wide-eyed beauty is clearly a victum of the zombie craze currently infecting the world.
Trivia
The brand extension follows a significant deal with Joyrich to introduce the timeless character into fashion boutiques across the country.
Links
Ad blocker interference detected!
Wikia is a free-to-use site that makes money from advertising. We have a modified experience for viewers using ad blockers

Wikia is not accessible if you've made further modifications. Remove the custom ad blocker rule(s) and the page will load as expected.