Betty Goes A - Posen



Name

Betty Goes A - Posen
01:52

Betty Goes A-Posen




Name

 Betty Goes A - Posen

Betty Goes A - Posen is an animation split into three parts featuring Betty Boop and Zac Posen. Betty Boop saves Zac Posen from a Steam Monster by glaring straight into the eyes of the monster. As a thank you Zac Posen takes Betty back to his studio to try on one of his designer dresses. While making their way to Zac's studio they come across a hot dog vendor and a customer arguing. Betty flirts with them and they stop. At Zac Posen's studio, Zac creates a designer dress for Betty and tells her that she is a star. Betty Boop takes out her BETTY BOOP RED TM LIPSTICK by MAC and proceeds to put on her lipstick. Betty Boop finishes up with her "Boop-Oop-a-Doop" routine.
Quotes
Characters
Cast & Crew
Music
Gallery
Video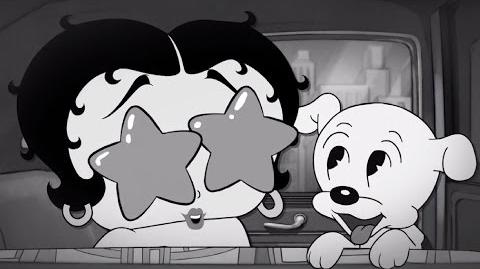 Trivia
Links
Ad blocker interference detected!
Wikia is a free-to-use site that makes money from advertising. We have a modified experience for viewers using ad blockers

Wikia is not accessible if you've made further modifications. Remove the custom ad blocker rule(s) and the page will load as expected.