Billy Boop

Status

Alive

Gender

Male

Species

Dog/Human

Family




Actor

First Appearance

Last Appearance

Latest Appearance

Billy Boop is Betty Boop's baby brother. He makes his first appearance as her sibling in Stopping the Show, where he can be seen watching his sister perform on stage from the audience. Billy also appears in the early comic strips: Betty tells her director that she thinks her brother has talent, so he puts him up for a screen test. In the comics, Billy is a tough little boy who speaks in a deep Brooklyn accent.  He would alternate appearing in the strip with Bubby Boop, another of Betty's siblings.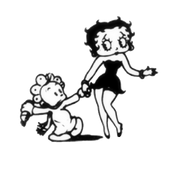 Quotes
Voice Actresses/Actors
Filmography
​Video
Gallery
Trivia
See Also
Ad blocker interference detected!
Wikia is a free-to-use site that makes money from advertising. We have a modified experience for viewers using ad blockers

Wikia is not accessible if you've made further modifications. Remove the custom ad blocker rule(s) and the page will load as expected.