きゃりーぱみゅぱみゅ



Name

Caroline Charonplop
Kyary Pamyu Pamyu
is a Japanese model and singer. Kyary is well known for her 2011 single, "PonPonPon", which made Japan's top ten. The 2012 singles "Candy Candy" and "Fashion Monster" followed the success. She has since released three full-length albums, Pamyu Pamyu Revolution in 2012, Nanda Collection in 2013, and Pika Pika Fantajin in 2014. Though most of her success as a recording artist has been in Asia, Kyary Pamyu Pamyu has also gained popularity in Western countries due in part to Internet videos which have gone viral. Media outlets have referred to Kyary as "Harajuku Pop Princess", and she has been photographed for magazines such as Dazed & Confused. In 2013, Kyary signed a distribution deal with Sire Records to release her material in the United States.
Kyrary Pamyu Pamyu as Betty Boop
In 2015 Kyary cosplayed Betty Boop for a Coca-Cola Halloween event in Shibuya.
Kyary Pamyu Pamyu:
"I thought very hard about what I should be...I searched to see if there were any Japanese girls dressed up as Betty Chan and I didn't find any."
Video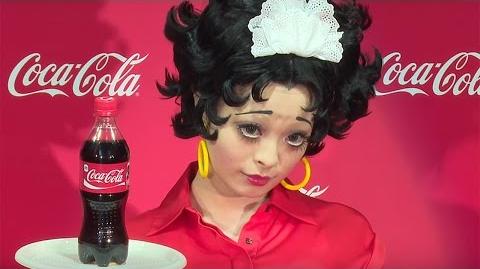 Trivia
According to Kyary the fact that Betty Boop is an American character also helped many people living overseas celebrate Halloween.
Links
Ad blocker interference detected!
Wikia is a free-to-use site that makes money from advertising. We have a modified experience for viewers using ad blockers

Wikia is not accessible if you've made further modifications. Remove the custom ad blocker rule(s) and the page will load as expected.